Tin Market Overview
Tin is commonly referred to as the "glue" of metals, as it is used to bind electrical components together. It is present everywhere in ways that are essential to our quality of life. Tin is a critical component of high-tech hardware, electrical vehicles, robotics, and renewable technology.
97% of the global tin supply comes from developing economies and 40% comes from artisanal and small-scale miners. The majority of the world's tin comes from alluvial mining, a highly unsustainable practice.
The world is in desperate need of new sources of tin. There are only a few projects operating and even fewer sustainable ones. With tin demand being primarily driven by increased use of electronics, the rise of the internet of things, and the renewable technology revolution, the tin deficit has resulted in a depleted tin supply chain that now sits at critical levels. Tin supply on the London and Shanghai Exchanges are historically low with deficits expected for the foreseeable future.
Below, we have highlighted the many uses of tin, its role in new technologies, and the future market outlook. To find more detailed information and market research visit: International Tin Association.
Tin Use
Tin is most used in semiconductors. Over 50% of the world's tin is used as an electronic solder for joining circuit boards. The demand for semiconductors is surging and the global semiconductor market is projected to double in the next five years (from approximately $400 billion in 2021 to $803 billion in 2028). The strong growth is driven by demand for emerging technologies such as electric and autonomous vehicles, (revenue from this segment alone is growing at a five-year CAGR of 21%), artificial intelligence, 5G, internet of things as well as consumer electronics.
Tin also has a big role to play in the growth of solar PV, with the solder ribbon used to join solar panels. That represented 7500t of tin use in 2016, with the International Tin Association predicting the market will double by 2030 as the usage of solar renewable energy rises.
Tin is also used as a chemical in making flat glass panels, stabilizes PVC and plastics, plating for steel cans and is contained in both lead-acid and lithium-ion batteries. Tin essentially turbocharges lithium. The current best technologies for lithium-ion batteries involve tin anodes, which enable significantly faster recharge than any other technology.
Internal Combustion Engine (ICE) and Electronic Vehicle (EV) Demand
Electric Vehicles sales are set to reach 50% of new car sales by 2030. This transition is led by increasing driving emissions regulation and government pushing for ICE bans. With increased EV sales, tin use will skyrocket as EVs use 3x more tin (~1,200g tin) than ICE vehicles (~400g tin) (Source: LME)
With an expected growth in car electronic usage of 7%, electronic components of EVs by 5x, and growth in 2021 Tin Demand Forecast (ITA) of 6%, the 361,5000 tpa tin market look increasingly likely to remain in a significant deficit.
5G & IOT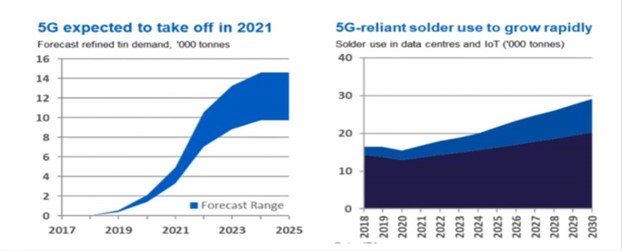 China is leading with 500,000 5G base stations built. New density microcell base stations to are set to triple. IOT and billions of smart devices are to be enabled. New data centers for computing and AI are being built across the world. Widespread adoption of smart technology is expected to increase and so will the consumption of indium tin oxide (ITO) and indium gallium zinc oxide (IGZO), which are used in LED flatpanel display and touch screens. Those screens will appear on everything from EV dashboards to home appliances. The rollout of 5G networks is set to boost telecommunications and other electronic sectors.
Smartphones and conventional mobile phones account for nearly half of all consumer electronics and, with demand for traditional mobile phones rapidly falling, a boost to smartphone demand will be critical to increased refined tin use in consumer electronics. Over the last decade, the emergence of smart home devices has boosted consumer electronics output; such devices accounted for only 2% of production in 2011 but rose to nearly 24% of the total in 2019.
Tin and New Technologies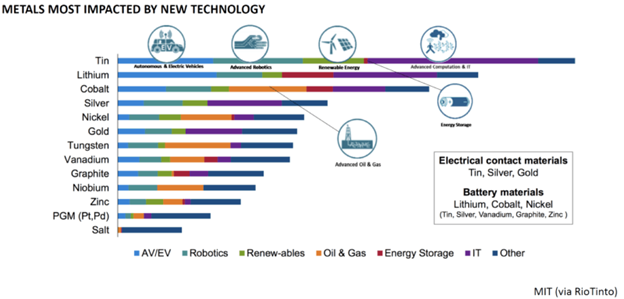 Energy and technologies are the strongest new use drivers, with tin additions to lead-acid batteries and solder used for joining solar cells already benefiting. Over the next decade, tin has many opportunities in lithium-ion and other batteries, solar PV, thermoelectric materials, hydrogen-related applications, and carbon capture. R&D, startups and corporate investments related to these innovations are highlighted below.
Lithium-Ion Batteries
Tin may be the 'forgotten EV metal'. As other commodities gain public attention tin is quietly gaining momentum as a performance-enhancing component in all three generations of advanced anode materials that have been road mapped to 2030, plus some solid-state technologies. Several hundred papers and patents have tracked the development of tin-based materials to maximum theoretical capacity beyond. Although the field is highly competitive, startups and major OEMs are starting to signal their interest in tin.
Post Lithium-Ion Batteries
While the current focus is on lithium-ion batteries the next generation of cheaper, safer products are already in development, including sodium ion, magnesium ion, potassium ion, and other products. Tin, its alloys, and compounds are prominent candidates for anode materials in some of these, and a growing number of developments including tin are noted. Although the performance of some prototypes already exceeds commercial lithium-ion products, it is likely that such products will find their own market as some are already being used in niche markets.
Solar Technologies
Tin was early in the race for new 'earth-abundant' materials to replace expensive and rare elements used in current solar PV technologies such as gallium. The first-generation product was a 'kesterite' copper tin zinc sulphide (CZTS) developed by IBM. More recently tin has gained attention in 'lead-free' perovskite products that have dramatically competitive performance, targeted at new markets like architectural glass.
Tin is also being explored as a heat energy storage medium on solar farms that concentrates sunlight using mirrors. Thermal technologies such as solar water heaters are likely to become more important. Apart from the materials themselves, this sector is already increasing tin use in China particularly through increased use of solder ribbon used to join solar cells and increased associated electronics production.
Hydrogen Generation
The hydrogen economy is still largely in the future as a concept, but there are already some uses and increasing investments in visionary projects such as the hydrogen airplane. Tin has already been shown to have the potential to significantly reduce the costs and sustainability of hydrogen production technologies, notably in use as a liquid metal to strip carbon from methane and as an oxide or sulfide photocatalyst to split water in sunlight.
Fuel Cells
Fuel cells are used to combine hydrogen and oxygen over a catalyst to produce electricity and tin has been shown to make an important contribution to some key components in the technology. Liquid tin was first used as an electrode in a type of fuel cell that was able to convert any type of hydrocarbon gas feed and at the same time act as a catalyst for the recombinant reaction. Other developments have used tin, its alloys, and compounds in various physical parts of the fuel cell, including tin pyrophosphate as a medium-temperature fuel cell membrane.
Carbon Capture Catalysts
The race is on to find and develop catalysts that can convert climate change gases, notably carbon dioxide, to useful industrial chemicals such as formate. Although there are numerous candidates, tin has a special ability to reform and join organic compounds that can be exploited, using sunlight or electrochemistry. An increasing number of studies are using tin as the active component, or as a promotor in other catalyst systems.
Demand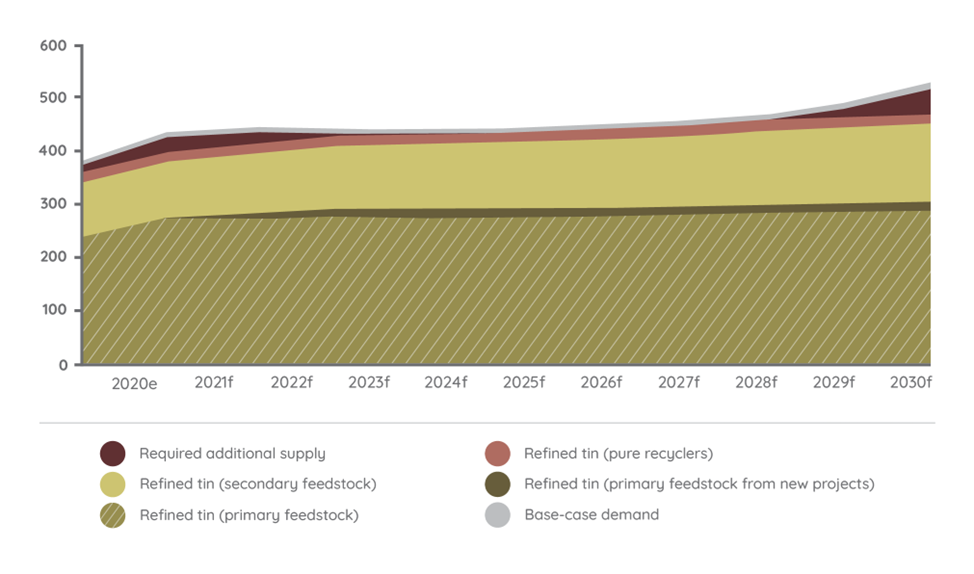 Roskill Commodity Research forecasts indicate that total market demand for refined tin will exceed 515kt by 2030, most of it accounted for by electronic and industrial solder (40%), but with a substantial rise of the share in Lithium-ion batteries (9%).
Demand increases will require substantial amounts of new refined supply, requiring additional tin sources (mine and secondary supply). With refined production well under capacity, it is considered that mine supply is the bottleneck in the tin market.
Over the outlook period, refined supply is largely expected to ramp up to meet demand, especially if pushed by Lithium-ion batteries toward the latter stages of the decade. Over the outlook period, periods of feedstock supply deficit are forecast. This highlights that more new supply will be required towards 2030 (labelled as required additional supply). This will come from either other production from primary producers or additional output from secondary producers.
*Information from Roskill Tin: Outlook to 2030 (12th Edition)