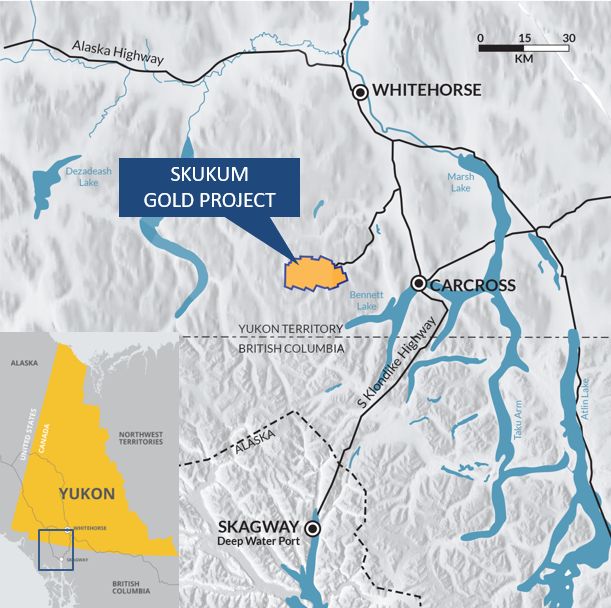 Whitehorse Gold Corp.'s wholly owned Skukum Gold Project is located in southern Yukon, Canada, approximately 55 kilometres south of the Territory's capital city, Whitehorse. The 170.3 sq-km property consists of 1,051 full or fractional Quartz Mining claims that encompass the Skukum Creek gold-silver deposit, the Goddell gold deposit, and the past-producing Mt. Skukum gold mine.
The three identified deposit types that occur on the Skukum Gold Project are typically structurally controlled gold±silver±base metal bearing veins or vein breccias.
The Mt. Skukum deposit is a structurally controlled epithermal gold deposit hosted in Eocene volcanics. Low temperature auriferous quartz-calcite-adularia veins occur along brittle fractures and faults with little shearing and appear to be formed at shallow levels.
The Skukum Creek deposit is a structurally controlled, polymetallic gold-silver, deep epithermal vein deposit hosted in Mid-Cretaceous Mt. McNeil granodiorite. In the Skukum Creek area, zones of mineralization are hosted primarily by a series of linked, northeast-trending faults that may represent splays off the Berney Creek fault system.
The Goddell deposit is a structurally controlled shear-hosted gold deposit. Mineralization is associated with altered felsic dykes within the shear zone. The shear zone is located within Mid-Cretaceous Carbon Hill granodiorites.